Cuernavaca • Oaxaca 
Welcome to Ideal, a place where lifelong cultural experiences are waiting for you. Your will learning and speaking Spanish with Native speakers, living very close to the daily reality of Mexicans; always with the friendly support of teachers and staff of Ideal.
At Ideal, we will show you the diversity of Mexico: why we celebrate the Day of the Dead, who was Frida Kahlo, why the Virgin of Guadalupe is the main religious symbol for us, the reason we are mainly "mestizos", and of course, many socio-political issues that impact the Mexican daily lives.
However, the experiences you can live in Mexico are the most important part of your trip: speak with native speakers, paint a traditional handcraft, cook and eat the most delicious meals, dance salsa, live with a Mexican family, and, if you are ready, volunteer in a community program. All those activities are also pretexts to speak Spanish. This is just a sample of what to expect at Ideal Cuernavaca or Oaxaca.
We are waiting for you at Ideal Spanish Mexico!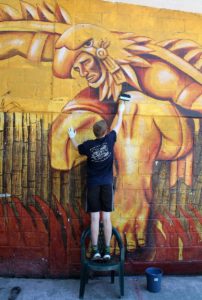 Volunteering in the indigenous town of Cuentepec, 1 hour away from Cuernavaca.
---
Take in mind discounts for winter in Ideal Spanish Mexico

Discounts applied over registration fee and tuition (Registration fee is $100 USD).
During the months of October, November, December and January
Paying total at the beginning of your program 
---
WE WERE HAPPY TO PARTICIPATE IN THE NATIONAL CONFERENCE OF DIOCESAN VOCATIONAL DIRECTORS 2018, in Phoenix, AZ.
Ideal Spanish Mexico participates like exhibitor in the National Conference of Diocesan Vocational Directors. Carlos and Selene went to Phoenix, AZ, to show the programs to study Spanish for seminarians, priests, nuns, and clergy. We were happy to find friends of the seminarians and diocese we used to work with in Ideal Cuernavaca.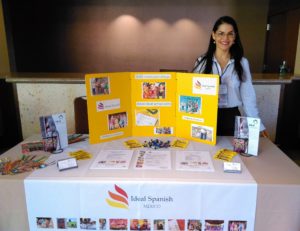 ---
In Ideal we are supporting the project "Ludotecas Morelos"
After the earthquake of September 19, the past year, many families of Morelos State lost their homes, so they needed to live in camps. Additionally, many school buildings collapsed, and children had no schools. This situation made that children suddenly had no activities to do and the parents were more concern to rebuild their lives. In this circumstance, a good friend of Cuernavaca, Laura Trueba, thought to create the "Ludotecas", which are educative playrooms for children in the camps, providing friendly, fun and safe places to stay. Laura is a pedagogue who has worked with kids many years; in this project she thought put her skills at the service of the community.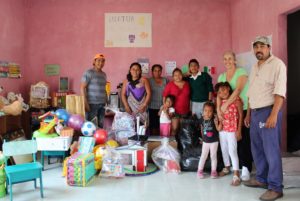 In Ideal, we were privileged to be invited to participate in this wonderful project and help to build (with our hands) some "ludotecas". Now the enthusiasm continues. There are still camps in Morelos that need ludotecas, and in some places ludotecas evolve to be permanent ludotecas, even with no camps, it happens when families realized those are good places for kids spend their time. There are 12 ludotecas, and we are thinking to create more.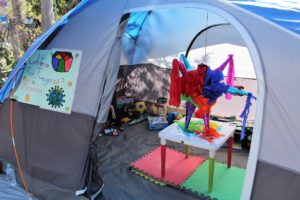 The students of Tec de Monterey create a webpage and Facebook page for the project Ludotecas Morelos; you are invited to visit both places to know more about it. Here is the address: Website Ludotecas Morelos. Facebook site.
We invite you to participate and donate to this project. If you come to study to Ideal or just visiting Cuernavaca, you are invited to go to visit some of the places where a ludoteca is installed. Ask Carlos or Selene about it: carlos@ideal-school.com, carlosbrito68@gmail.com, and selene@ideal-school.com.
---
We were happy to make FUNNIER the trip of the Children's Band "Santa Cecilia"
Ideal Spanish México and a group of generous donors, contributed to invite boys and girls of the children´s band of Oaxaca "Santa Cecilia", to visit the science Museum Universum. The band is visiting Mexico City to play for first time with the choir if Air France in the National Center for Arts. For most of the kids and teens, this is their first time visiting Mexico City, and we think out going to Universum is a way to make better their time in the big city… and it was a success!
Band "Santa Cecilia" is a complete project oriented to improve the life of children and teens of the Vicente Guerrero neighborhood, a margin place close to Oaxaca city; everything made with a hard work, determination and music.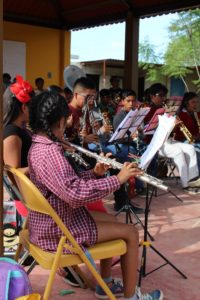 You are invited to visit them and know their wonderful project when you study in Ideal Spanish México, Oaxaca location.
---
Don't forget Classes Online of IDEAL, it is the best option to learn Spanish from home
First class free.
2×1 taking the class at the same time. Usually our classes are 1-1, but if you want to take your class with a friend, you only pay for one person!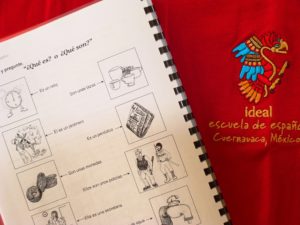 Ask for more information to carlosbrito68@gmail.com, or info@ideal-school.com
---
Ideal Language and Cultural Experiences belongs to: