Cuernavaca • Oaxaca 
Welcome to IDEAL, a place where lifelong cultural experiences are waiting for you. Your will learning and speaking Spanish with Native speakers, living very close to the daily reality of Mexicans; always with the friendly support of teachers and staff of Ideal.
At IDEAL, we will show you the diversity of Mexico: why we celebrate the Day of the Dead, who was Frida Kahlo, why the Virgin of Guadalupe is the main religious symbol for us, the reason we are mainly "mestizos", and of course, many socio-political issues that impact the Mexican daily lives.
However, the experiences you can live in Mexico are the most important part of your trip: speak with native speakers, paint a traditional handcraft, cook and eat the most delicious meals, dance salsa, live with a Mexican family, and, if you are ready, volunteer in a community program. All those activities are also pretexts to speak Spanish. This is just a sample of what to expect at IDEAL Cuernavaca or Oaxaca.
We are waiting for you at IDEAL Spanish Mexico!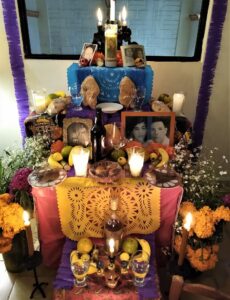 Our altar for The Day of the Death
---
Spanish for kids with Coco
Following a family tradition in IDEAL Spanish Mexico, our little Coco (Who many of you met during your staying in IDEAL) is teaching Spanish; well due the quarantine, it is online:

---
the best option to learn Spanish from home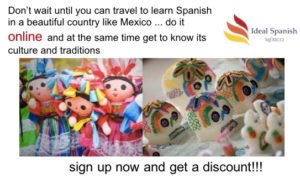 Discounts available!
First class free.
2×1 taking the class at the same time. Usually our classes are 1-1, but if you want to take your class with a friend, you only pay for one person!
Ask for more information to carlosbrito68@gmail.com, or info@idealspanishmexico.com
---
If you need to improve your communication with your Hispanic congregation, we wait for you in IDEAL online for:

online program!
---
Ideal Spanish Mexico belongs to: